When I am exploring an urban environment, I tend to look for opportunities to photograph a lone person or persons with interesting and iconic architecture whereby both subjects become part of what I like to call a "double portrait".  I have likened taking a photograph of architecture to an abstract fine art portrait where architecture becomes a vital and a primary part of the photograph as much as the person(s) who themselves offer depth, mood, and substance in a beautifully captured moment.  I have explored this concept for awhile now and have delved deeply into it in my workshops with participants.  I have since put a series of photographs together entitled "The Fifth Element" for which I am I using to explore this concept.
"Time To Face The World" (2006) was one of my first attempts at this idea.  I was traveling between the Skywalk and Union Station in Toronto when I came across this scene upon happenstance.  I struggled to get my camera out and hoped that this scene would remain until I was able to get a few good photos.  Once I got my camera out in a panic, I was one to three clicks away from capturing and creating something that felt powerful.  Many people walked by between my struggle and attempts to capture this moment but in the end I met with my decisive version of success.  You will notice that as much as the lone figure is staring out into the world, the world is staring back at him through the window.  There is this palpable synergy between both elements or subjects.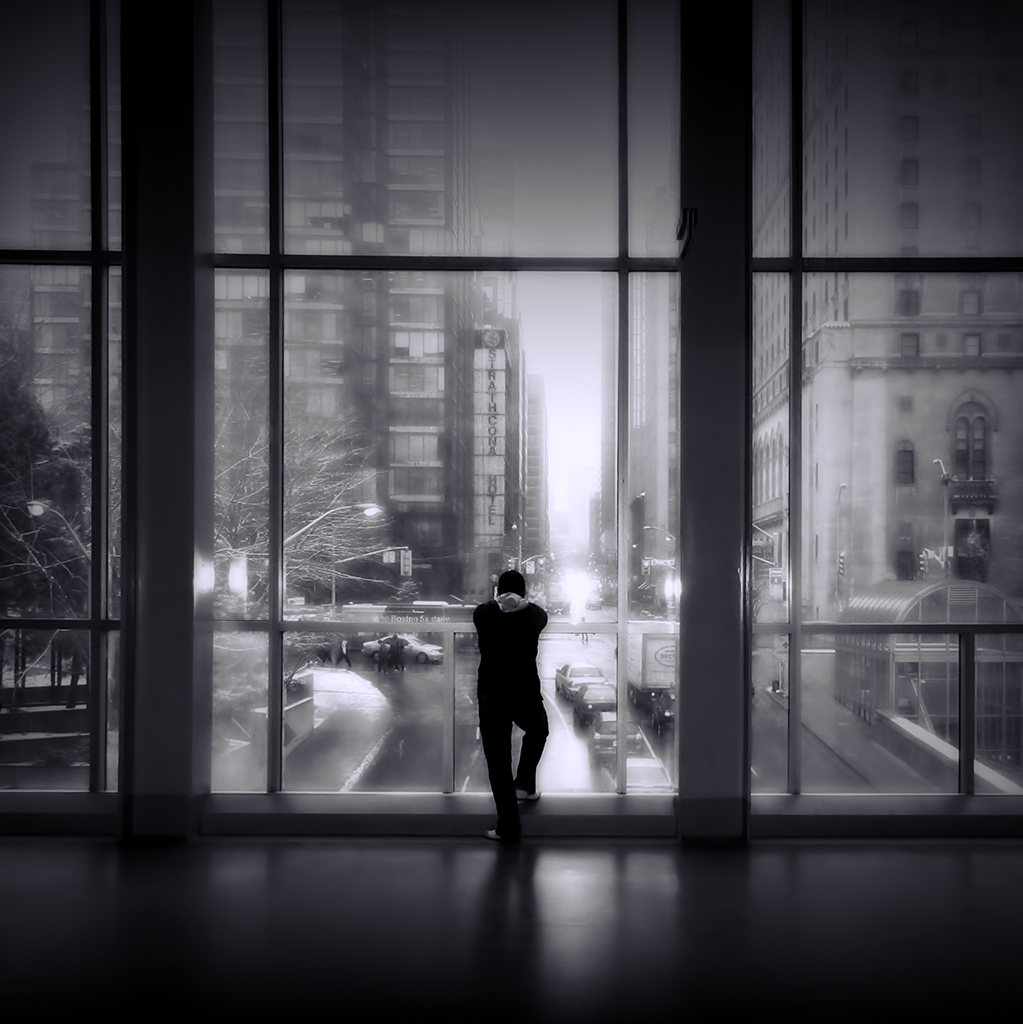 I will let the viewer decide the meaning of these photographs but you will notice some common elements or principles in all of the photos of the series:
1.  Both the person(s) and the architecture act as primary and parallel subjects and each subject is considered part of an integrated portrait.  Both subjects offer an interchangeable focus and reflection whereby the viewer's eye is equally drawn to the person(s) as much as the architecture.
2.  Both the person(s) and the architecture are photographed as recognition of a significant event that is captured and expressed as a "decisive moment" by the photographer or created based on a "meditative moment" where subjects are studied and photographed in a methodical way.  As a reference for differentiation, Henri Cartier-Bresson defined the "decisive moment" as such:  "The decisive moment, it is the simultaneous recognition, in a fraction of a second, of the significance of an event as well as the precise organization of forms which gives that event its proper expression." 
3.  Both the person(s) and the architecture are photographed with the first two principles in mind while using various techniques to create a unifying portrait of the subjects (e.g., long exposure photograph where the individual stands still for seconds to minutes while other people become faded impressions or "ghosts" in the photograph).
The "Double Portrait" is similar to the idea in the famous "Arnolfini Double Portrait" painting of a couple by Van Eyck but different than the "Double Exposure" technique in that you are not necessarily superimposing and blending one image with another (e.g., a face with a tree or even architecture).  A Double Portrait can be realized in either colour or black and white but I find that the tonal range in monochrome prints offers an essential unifying force between subjects.  This is my personal preference but it is not limited to this impression. The expression of the "Double Portrait" can also be realized and generalized to certain abstract or archistract foregrounds / backgrounds.  This type of photography is different than what is considered "Street Photography" in that "street photographs are mirror images of society, displaying "unmanipulated" scenes, with usually unaware subjects" (Source:  Wikipedia).  Typically, street photography is about the raw, representational reality of every day situations where as my concept is more about artistic expression, whether "manipulated" or not in post-processing. as part of creative fine art photography.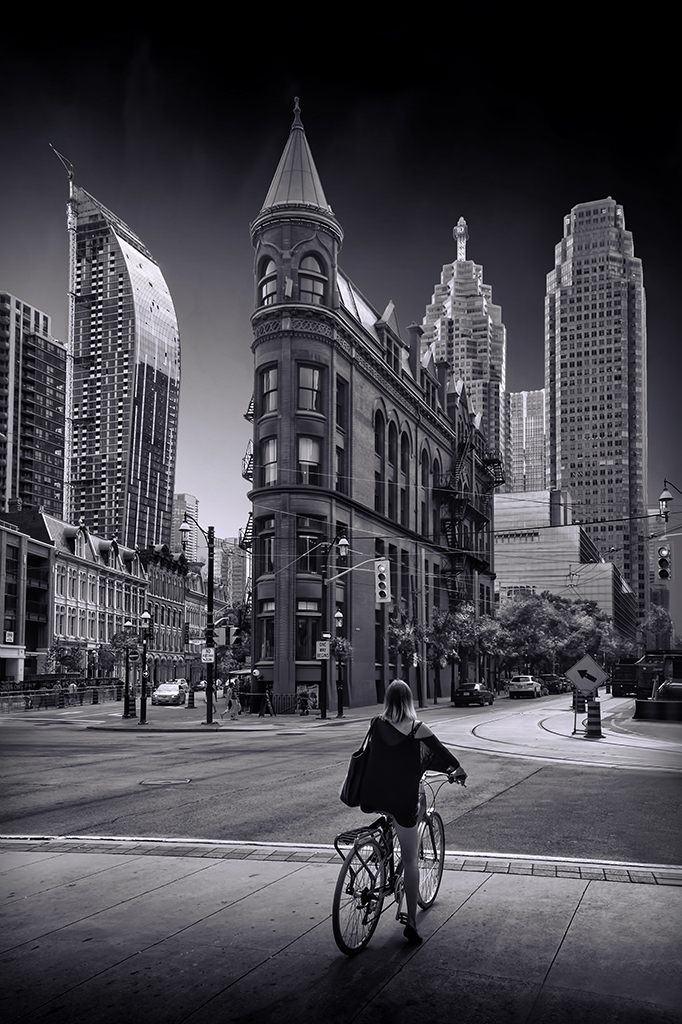 "City Girl" was a decisive double portrait.  I was standing on a busy corner talking with some friends of mine when I noticed the nicely dressed woman on a bike stopped at the lights.  I immediately took three photographs of her before the lights changed and she was gone.  Notice how her position on the bike parallels and compliments the position of the Gooderham Building (Flat Iron), a historic landmark in downtown Toronto.  They almost reflect one another.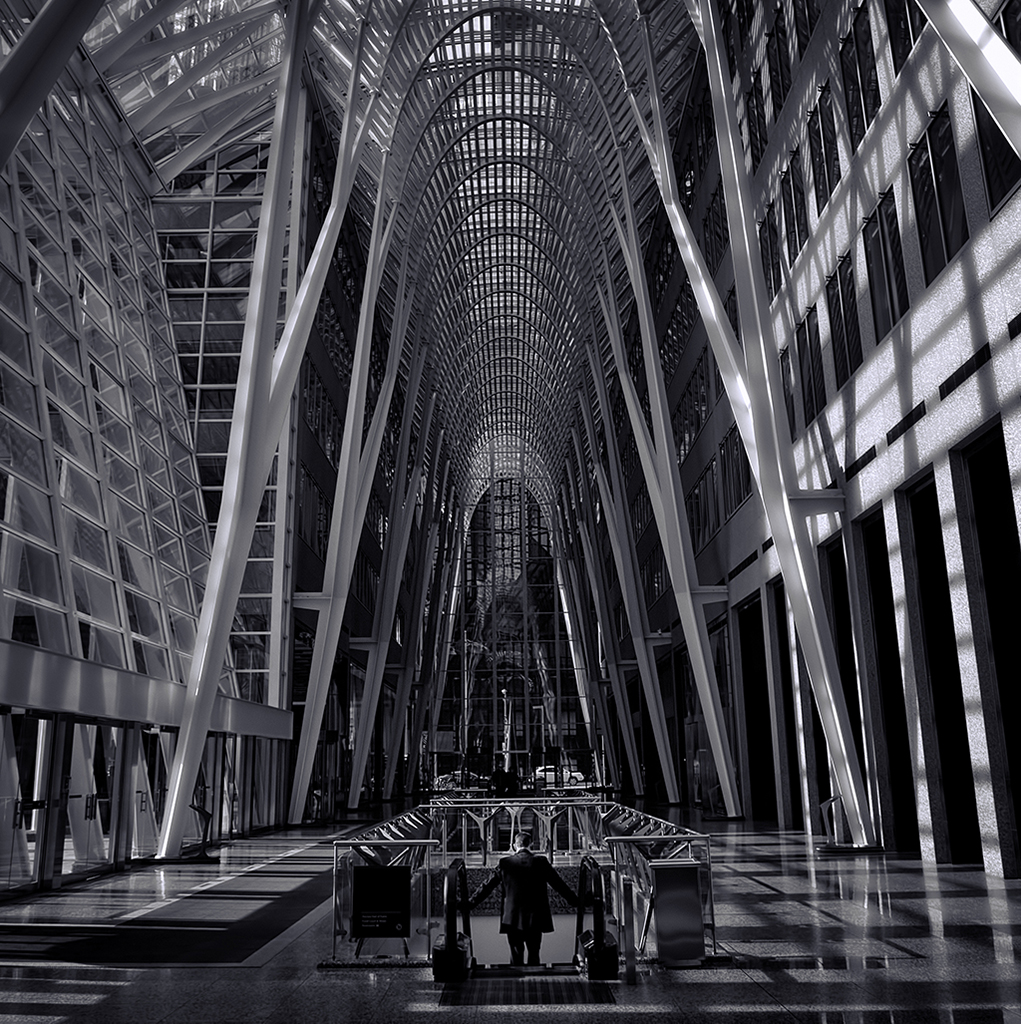 "Coda of Calatrava" was another decisive double portrait.  I was taking photographs at Brookfield Place in downtown Toronto on a Sunday morning.  The interior of the building was crafted by the famous architect Santiago Calatrava and I often refer to this space as "my temple".  I literally turned around and saw a scene of a man about to descend the escalator and captured it instantly.  What I really liked about this capture is that the man's outstretched arms reflect the looping structure of the architectural space.
"The Son Of Son of Man", which is a play on Magritte's famous "Son of Man" portrait, is a meditative double portrait.  I was visiting San Francisco with some friends when we ventured to the SFMoMA (San Francisco Museum of Modern Art).  This gent was kind enough to pose for us but what really impressed me was this particular position because all of the symmetrical and asymmetrical geometric elements aligned around his stance like an abstract star burst.  Notice how the way he is facing and the position of the manholes and the upper and lower vents in the composition create a fluid and parallel motion with the architecture.  The person and the architecture are both equally integral to the composition.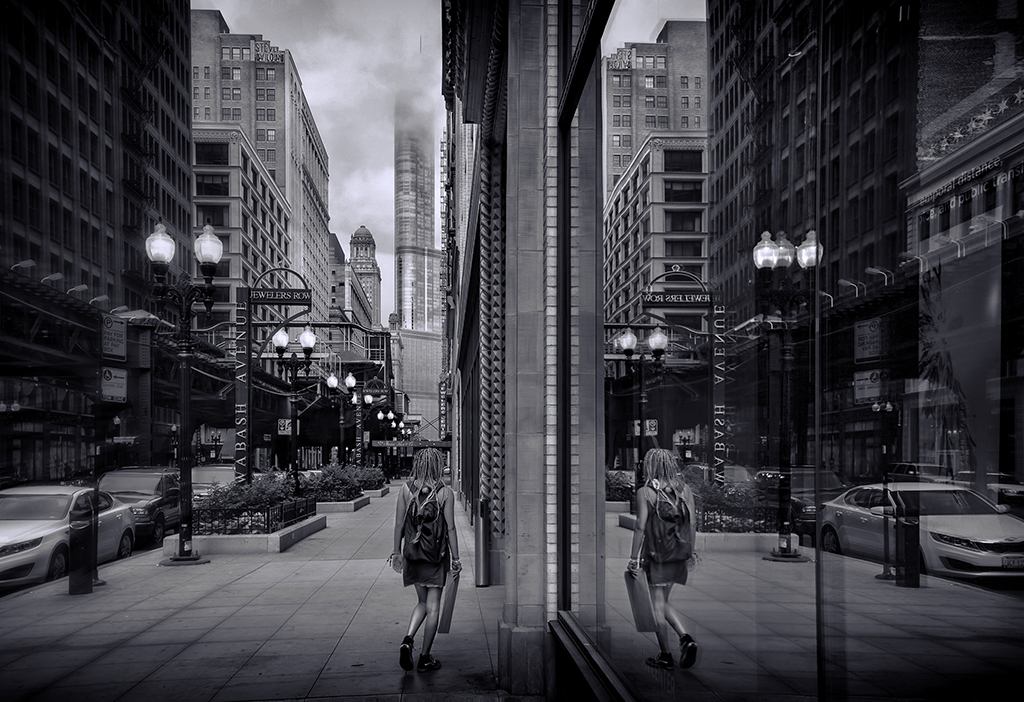 "Wabash Duality Theory" is a combination of a meditative and decisive double portrait concept.  The reflected downtown Chicago architecture (Trump Tower, El Train and the buildings and stores along Wabash Avenue) was meditative as I planned a photograph this way.  The decisive part came in when I noticed a lone woman coming into my line of sight after several minutes and I took the shot after a few seconds of observation.
Please follow and like us: